Sale
Looking for a professional instrument? Then this is your place to find what you need!
We sell a variety of high-quality instruments, and additional equipment, all of them original products from Guinea.
Among these are djembes for beginners as well as professional players, balafons, dundun-sets, skins, …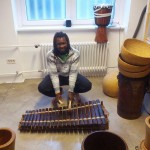 Repair
Your instrument is broken? No problem! We offer fast and professional fixing, so that you can tune in to your own rhythm again soon!
Arts and Crafts
In addition we offer: masks, statues, juwelry, as well as hand-bags and matching accessory made from traditional cloths. Below a small selection…
Contact us!